Water Disinfectant Chlorine Dioxide Tablet for Water Treatment
Product Description
Water Disinfectant
Chlorine Dioxide Tablet
for Water Treatment   Name:
Chlorine Dioxide
tablet
Size: 1g, 20g State: Effervescent Tablet Concentration: 10% Package: Inside Vacuum PE Bag, Outside Al Foil Bag. ( Check the Bellow Pics for Reference)     What are
Chlorine Dioxide Tablets
  Chlorine Dioxide (CLO2) tablets are a blend of precursor chemicals which when added to the pool water then forms Chlorine Dioxide. Ideal for elimination of Cryptosporidium and Chloramines. Little 'down time' of swimming pool as there is no need for Chlorine reduction after use.   What harm will there be if the
Drinking Water
is not well treated?   Water is source of life. But also water in natural world usually contains many harmful bacteria, micro organisms and viruses. People get sick by drinking untreated water. Thus, water disinfection has become a serious procedure before drinking. Here I'll introduce our Chlorine DIoxide tablet which is the newest generation of water difinfectant.   What are the advantages to use Chlorine Dioxide for water disinfection?   Many years ago, Chlorine Dioxide has been recommended as grade A1 on epidemic prevention by WHO. It qualifies many powerful abilities to disinfect:   1. High efficient in killing all kinds of bacteria and virus 2. Remove the organic micro organisms 3. Killing all micro organisms in 30s 4. None toxic and no residual chlorine 5. very low concentration will work  
Time

Country

Approval Authority

Range of Application

1992

 

WHO

Drinking Water Disinfection

1987

Germany

 

Drinking Water Disinfection

1985

America

FDA

Food Processing Equipment Disinfection

1987

America

EPA

Disinfection for Food Processing Factory &  Beer Brewery & Restaurant & Hospital, etc

1989

America

EPA

Disinfection for Store Water & Animal Shelters 

1988

Japan

Ministry of Health

Drinking Water Disinfection

1987

Australia

Ministry of Health

Food Additives #926,Food Bleaching Agents

1987

China

Ministry of Health

Disinfection for Food Industry & Medical & Pharmacy & Livestock & Aquaculture & Public Environment, etc

1996

China

Ministry of Health

Food Additives for Aquatic and Fresh Products

2002

America

FDA

Disinfection for Food Processing Equipment & Pipes & Milk Processing Plants

2005

China

Ministry of Health

Drinking Water Disinfection

Its safety is regarded as AI level by the world health organization (WHO).
  Suggestion of Usage&Dosage  
Function

Object

CLO2 Concentration

Disinfection Time

Dosing Method

Gram/1000L

PPM

Water Disinfcetion

Tap Water

2

2

30

By Dosing Machine

Well Water

Just Drop into Water

Lake Water

Water Tank

It is just for reference, can not be used as standards
  Water Disinfectant Chlorine Dioxide Tablet for Water Treatment      FAQ   Q 1--- Could you arrange to send me samples of Chlorine Dioxide (CLO2) Tablets/
powder
for our testing? A1 ---  No Problem! We are more than glad to supply customers with free samples for testing within 1~2days.   Q2--- Is that possible to put on my own logo on the product? A2--- Yes, just inform us with your logos and requirements.   Q3--- How could it be possible if we want to be the only distributor locally, and how do you support us? A3--- To be the only distributor in a place, there are 2 conditions: 1. In a place there is no our existing distributor. 2. The order quantity should reach a certain amount seasonly or annually.To Protect the benefit of our distributors, we promise never to directly sell the same product to the regions where our distributor are located. And also we'll guide the customers  to our distributors from the same region.   Q4--- Are you a factory manufacturer or just a commissioned trading agent? A4--- Our factory has been doing Chlorine Dioxide (CLO2) for over 10 years, and our trading company is founded under the factory. In another word, we are a trading company with our own factory, or we are a manufacturer with our own trading company.   Q5--- How & Why do you say Chlorine Dioxide (CLO2) is better than
Calcium hypochlorite
? A5--- That is a good question, goes straight to the heart of the matter. 1. Chlorine Dioxide is non-toxic, not pungent and doing no harm to humanbody. It has been recommended by World Helath Organization (WHO) for drinking water disinfection of AI level many years ago. Calcium Hypochlorite is low toxic, smells pungent and most importantly it causes cancer for a long time use. 2. Chlorine Dioxide performs more efficient than Calcium Hypochlorite does. In 1 min, to kill 99.99% Pseudomonas aeruginosa of 1000t water, we need only 480kg Chlorine Dioxide of 10% but 1367kg if we choose Calcium Hypochlorite of 60%. It is clear to see the differences. Then what about 10,000t, 1,000,000t? You can figure that out.   Important Notes   1.  This product is hygroscopic, it will deliquesce and lose efficacy when exposed to air. It should be finished at a time when package is open. 2.  Slowly add the powder/tablet to water (DO NOT ADD WATER INTO POWDER/TABLET). 3.  Do not store or transport the products when there are packaging damages; and do not store or transport the products together with acid content; avoid damp. 4.  Store the products in cool and dry places, seal and keep it away from sunlight. 5.  Place the products out the reach of children   Water Disinfectant Chlorine Dioxide Tablet for Water Treatment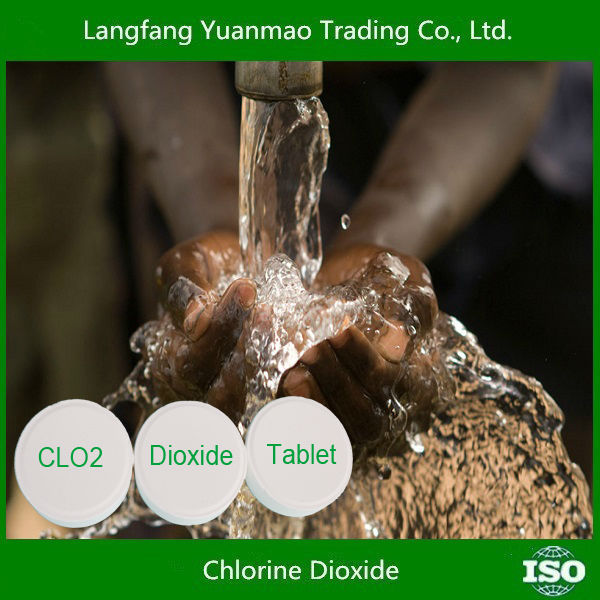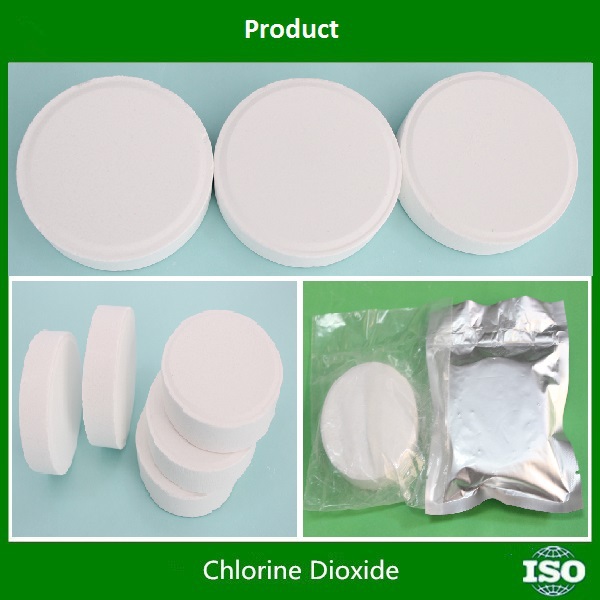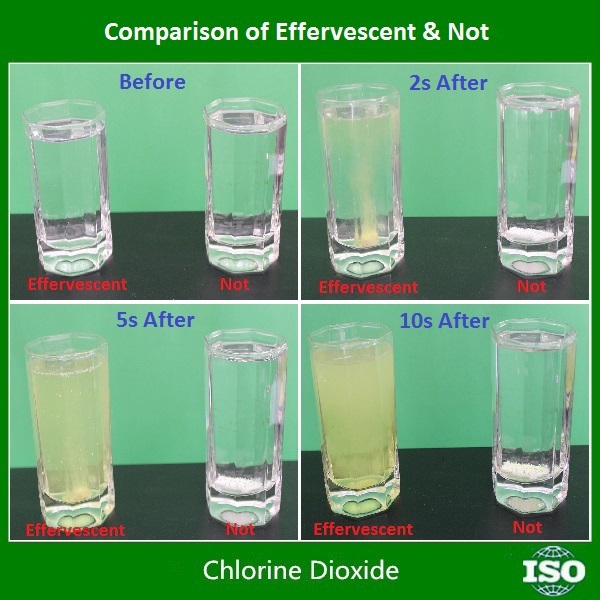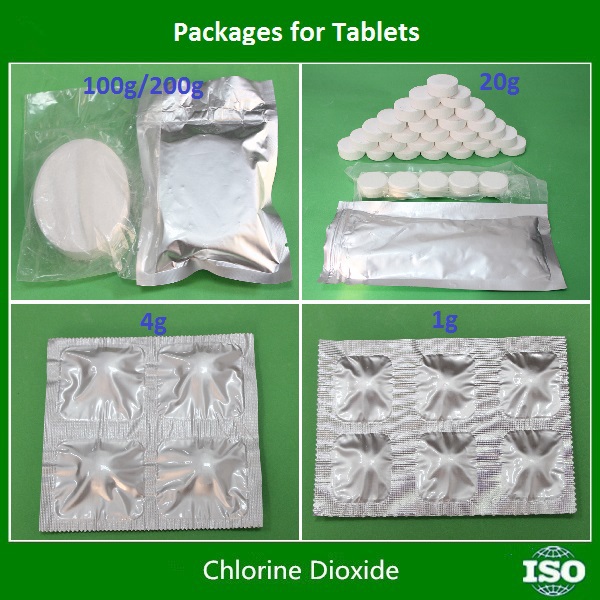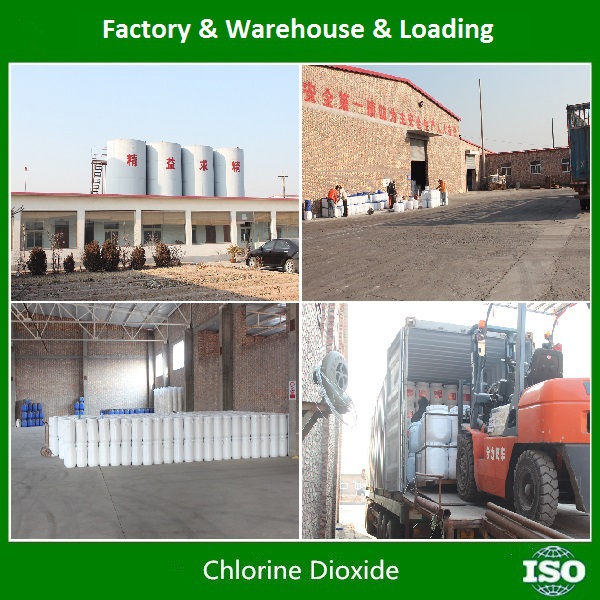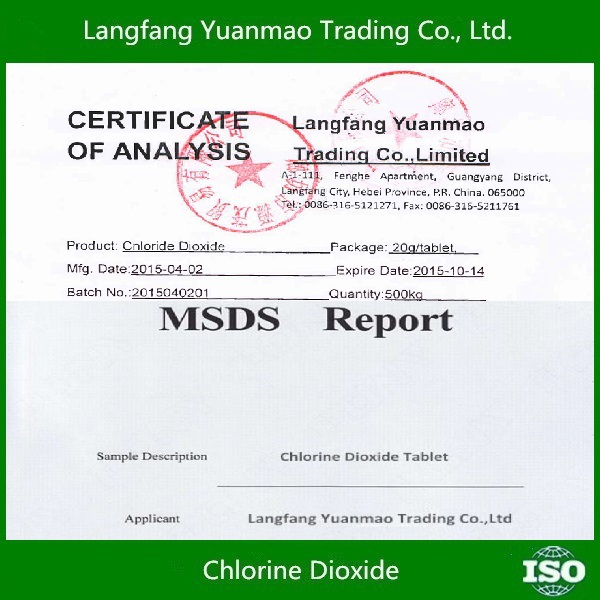 Water Disinfectant Chlorine Dioxide Tablet for Water Treatment Contact us if you need more details on Water Sterilization. We are ready to answer your questions on packaging, logistics, certification or any other aspects about Chlorine Dioxide、Chlorine Dioxide Tablet. If these products fail to match your need, please contact us and we would like to provide relevant information.
Product Categories : Drinking Water