Chlorine Dioxide Tablet & Powder for Drinking Water Treatment
Product Description
Chlorine Dioxide Tablet
&
powder
for
Drinking Water
 Treatment    Product Name:
Chlorine Dioxide Disinfectant
State:
tablet
& Powder  
Chlorine Dioxide
Content:10% and 8% Application: Drinking water disinfection State: Tablet & Powder  Packaging: Package: Inside Vacuum PE Bag, Outside Al Foil Bag Sammples: Free Product Description 1. Brief Introduction of Chlorine Dioxide  Chlorine Dioxide, a kind of highly effective, safe, quick and broad spectrum disinfectant, has been recommended recommended to the world by WHO and FAO with class A1.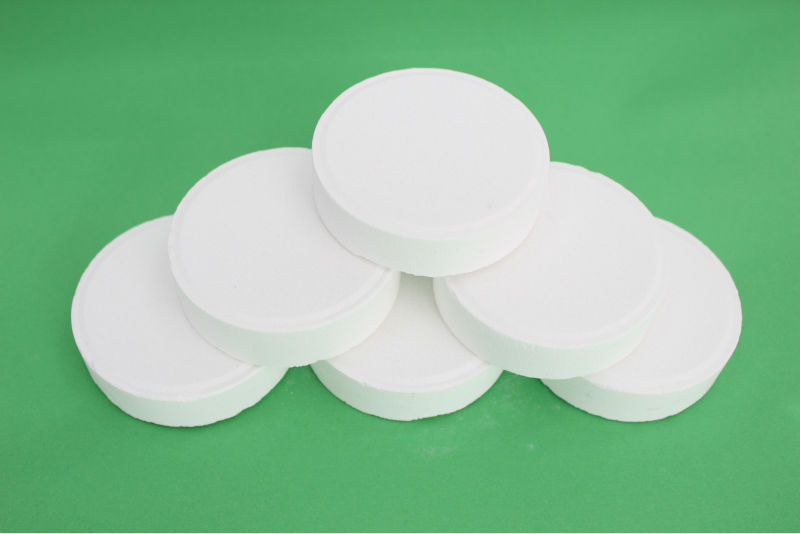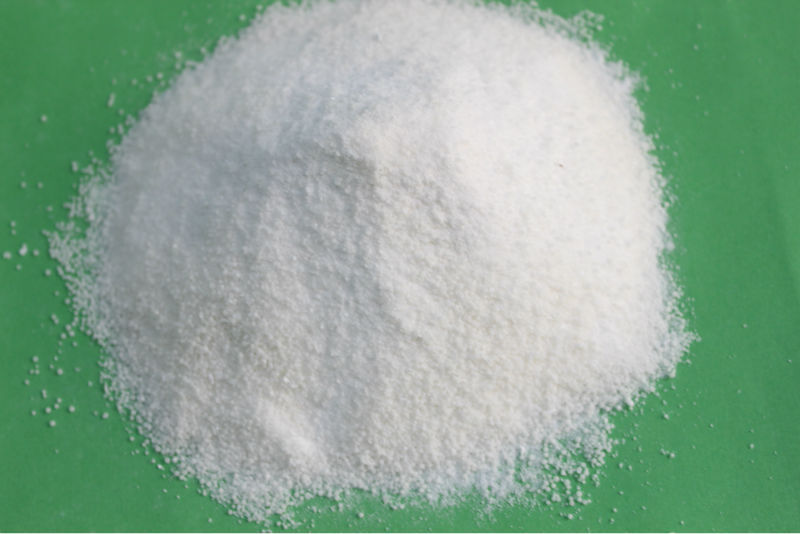 2. Application Range
(1). Apply to drinking water disinfection in restaurants, hotels, buses, hospitals, disaster resistance and alleviation drinking water. (2). Apply to other drinks, like juice, dairy and fruit wine, disinfection.    3. Strilization Performance Chlorine Dioxide can kill enteric pathogen, pyogenes, bacteria spores and inactive virus. Drinking water, juice, dairy and fruit wine can be contaminated by pathogenic microorganism during production process. In this situation, human health will be seriously affected even by trace. Microbiological standards should be strictly controlled to protect human health. So disinfection has become crucial in processing of drinks. Chlorine dioxide is the most widely used disinfectant for drinks in home and abroad. Chlorine dioxide disinfectant for drinking water: (1)When the PH is 6 or 9, the 5log cfu/g flagellate will be inactivated when the chlorine dioxide oncentration is 1.5mg/L in water. 3mg/l concentration will inactivate 0.5log cfu/g cryptosporidium. (2)PH is 7, chlorine dioxide solution of 2mg/L will kill 95% Bacillus subtilis in water.   4. Usage&Dosage  Preparation of mother liquid: Add a bag of 10g (or 100g) powder/tablet into 0.5kg (or 5kg) water, (DO NOT ADD WATER TO POWDER/TABLET), stir well,  let the solution stand for 5 to 10 minutes until complete dissolution and obtain 0.5kg (or 5kg) mother liquid with a concentration of 2000mg/L. Dilute the mother liquid as the table: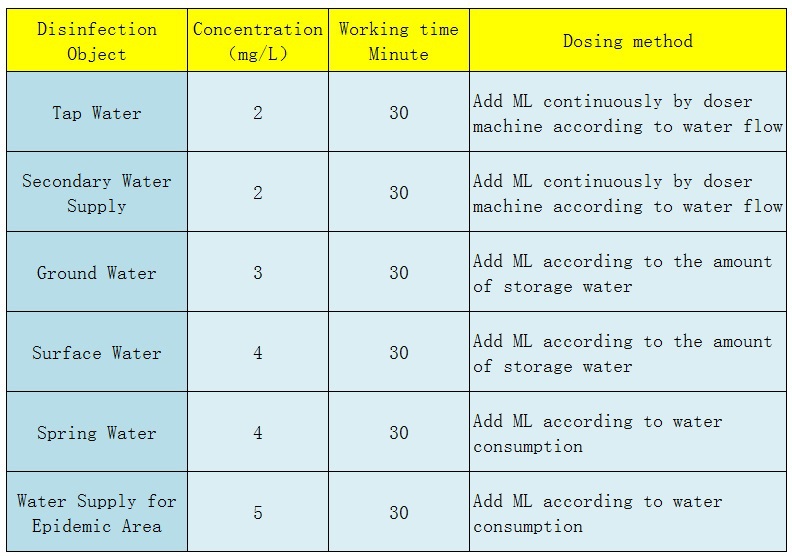 5. Notice 1.This product is easy to moisture absorption, so the preparation should be in ventilated, dry place. 2.External use antiseptics, do not eat. Please keep away from children. 3.After open the bag, goods should be used in one time. 4.This product should be stored in a place away from light,moisture, and acidic materials. Company Information Our Services 1. We can provide professional application guidance in drinking water disinfection.  2. Prompt shipment with professional documents. 3. Packing as your request, with photo before shipment. 4. Free samples are provided at any time. ____________________________________________________________________________ Packaging Detailes: 50kg plastic drum, customized packaging is also available. Delivery Details: 3 days after payment.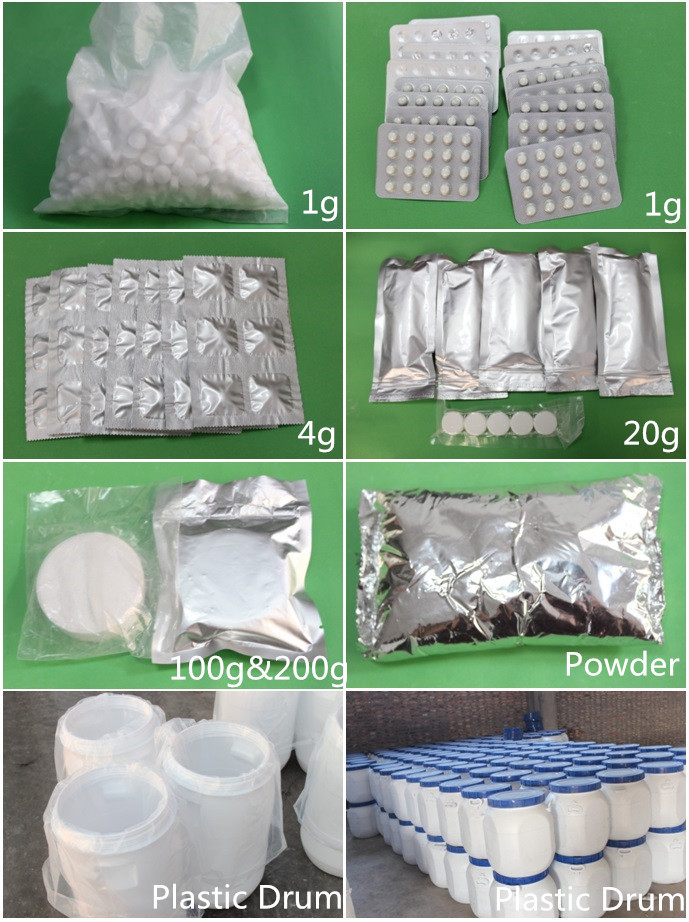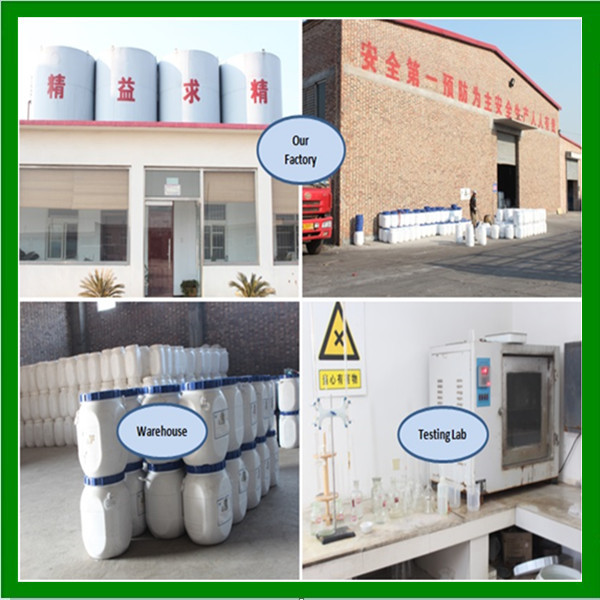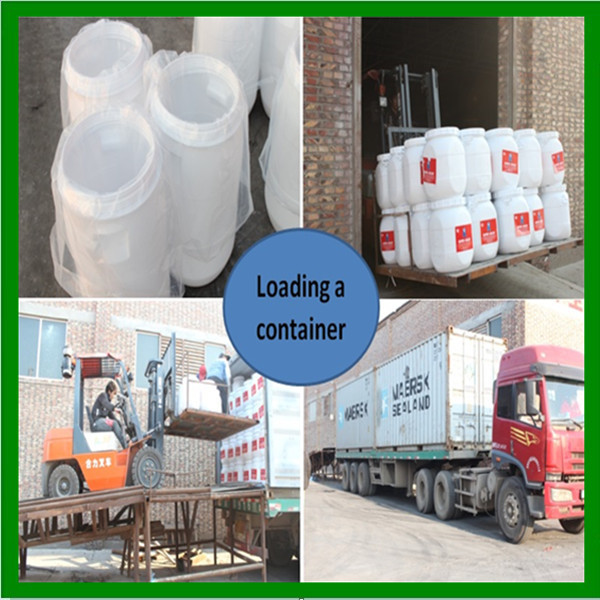 FAQ   Q1--- Could you provide guidance of chlorine dioxide used for swimming pool disinfection. A1 --- Of course! We have experts in chlorine dioxide applications, so that we can provide professional guidance in swimming disinfection.   Q2--- Could you arrange to send me samples of Chlorine Dioxide (CLO2) Tablets/Powder for our testing? A2 --- No Problem! We are more than glad to supply customers with free samples for testing within 1~2days.
Q3--- Is that possible to put on my own logo on the product? A3--- Yes, just inform us with your logos and requirements.   Q4--- How could it be possible if we want to be the only distributor locally, and how do you support us? A4--- To be the only distributor in a place, there are 2 conditions: 1. In a place there is no our existing distributor. 2. The order quantity should reach a certain amount seasonly or annually.To Protect the benefit of our distributors, we promise never to directly sell the same product to the regions where our distributor are located. And also we'll guide the customers  to our distributors from the same region.   Q5--- Are you a factory manufacturer or just a commissioned trading agent? A5--- Our factory has been doing Chlorine Dioxide (CLO2) for over 10 years, and our trading company is founded under the factory. In another word, we are a trading company with our own factory, or we are a manufacturer with our own trading company.   Q6--- How & Why do you say Chlorine Dioxide (CLO2) is better than
Calcium hypochlorite
? A6--- That is a good question, goes straight to the heart of the matter. 1. Chlorine Dioxide is non-toxic, not pungent and doing no harm to humanbody. It has been recommended by World Helath Organization (WHO) for drinking water disinfection of AI level many years ago. Calcium Hypochlorite is low toxic, smells pungent and most importantly it causes cancer for a long time use. 2. Chlorine Dioxide performs more efficient than Calcium Hypochlorite does. In 1 min, to kill 99.99% Pseudomonas aeruginosa of 1000t water, we need only 480kg Chlorine Dioxide of 10% but 1367kg if we choose Calcium Hypochlorite of 60%. It is clear to see the differences. Then what about 10,000t, 1,000,000t? You can figure that out.  If you have any questions, please do not hesitate to contact me!   Contact us if you need more details on Chlorine Dioxide. We are ready to answer your questions on packaging, logistics, certification or any other aspects about Chlorine Dioxide Tablet、
Drinking Water Treatment
. If these products fail to match your need, please contact us and we would like to provide relevant information.
Product Categories : Drinking Water